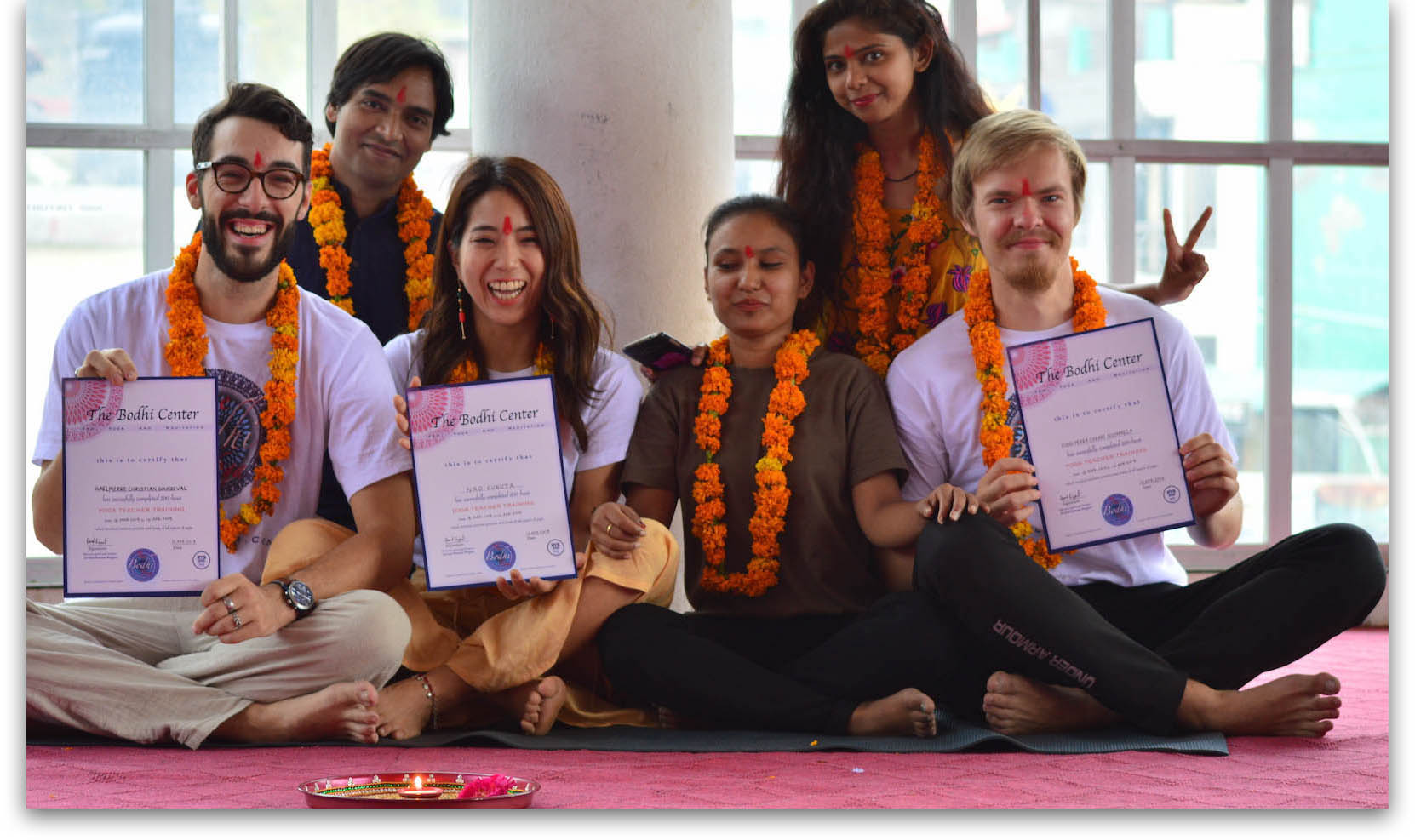 Yoga Teacher Training in Rishikesh, India: Bodhi Yoga
The Bodhi Yoga is one of the Best Yoga School in Rishikesh and offering 100 Hour, 200 Hour Yoga Teacher Training, 300-Hour Yoga Teacher Training in Rishikesh, India. This authentic Yoga school is situated in Rishikesh. The Bodhi Center for Yoga and Meditation is accredited by Yoga Alliance, USA (RYS 200, RYS 300). We offer Residential Hatha Yoga TTC. Yoga is the addition of vitality, sturdiness, and beauty to the body, mind, and soul. Rishikesh is the most suitable place offering conducive setting for yoga exploration and practise. The city of Rishikesh serves as both a gateway to the Garhwal Himalayas and the unofficial "Yoga Capital of the World."
Being the yoga capital of the world, Rishikesh is well known for courses on Yoga Teacher Training. Our Yoga Teacher Training Center is one of the prominent yoga schools which has been helping the yoga enthusiasts to learn and study yoga. Our ashram welcomes not only the local students but the international students as well. The students can relax in the lush greenery, natural waterfalls, and other nature's beauties in Rishikesh. So if you are searching for the best Yoga Teacher Training in Rishikesh India then feel free to contact us as this is one of the best yoga schools in Rishikesh India.
---
Best Yoga Teacher Training Course in Rishikesh
The aim of The Bodhi Yoga Teacher Training school is to promote and explore yoga with a focused, authentic and integrated approach. Yoga is not limited only to asanas for getting physical benefits, it transforms practitioner tremendously. Therapeutic benefits of yoga are well known and well documented all over the world by renowned scientific organizations.
The Bodhi Center offers wide range of yoga course to choose as per the interest and requirement of yoga aspirants. The courses run for very short duration to several weeks. Some of our popular yoga programs are:-
These programmes, which are created in accordance with worldwide standards, will help aspiring yoga instructors find professional approach and inner serenity.
Yoga and meditation exercises are a regular part of our yoga instructors' lives.
Instead of viewing yoga as a substitute for exercise, learners should investigate its deeper significance and discover their own ultimate mission.
In addition to guiding and instructing the yoga students in asanas, chanting, meditation, physiology, pranayama, and teaching methods, our yoga instructors will also clear up any doubts they may have.
Our credential enables our students to become Registered Yoga Teachers (RYT), as we are a Registered Yoga School with the Yoga Alliance (USA). Additionally, they will be given the privilege to have their profiles published and searchable on the Yoga Alliance website, giving them access to a global credentialing network.
Our teaching method is based on ancient teachings but we keep a good balance between all aspects of yoga. We have enough classes reserved for anatomy and physiology. Lectures include subtle prana anatomy related to seven Chakras, Nadis (astral pranic channels) and Kunadalini (mysterious dormant force).
Food offered here is according to yogic recommendations and of sattvik nature and good enough to fulfill to all the important nourishment needs of a yoga aspirant.
---
» Introduction to yoga Philosophy
» Pranayama and Bandhas
» Asana Correction Techniques
» Introduction to Mantra Yoga and Chanting
» Anatomy and Physiology
» Meditation and Trataka
Visit- 200 Hour Yoga TTC India. for more information.
---
Certified Yoga Teacher Training Courses in Rishikesh
100 Hour Yoga Teacher Training Course in Rishikesh
An introductory course suitable for beginners and intermediate practitioners 100 hour Hatha Yoga Teacher Training course in Rishikesh India, 100 hour yoga TTC in india.
200 hour Yoga Teacher Training multi-style Hatha, Ashtanga & Vinyasa yoga TTC program at The Bodhi Yoga Centre (yoga Ashram) at Rishikesh, is appropriate for anyone at a beginner or intermediate and advance level of yoga.200 hour yoga TTC in india.
300-Hour Yoga Teacher Training in Rishikesh, India
Advanced than 100 & 200 Hour Yoga course. This course is advanced in not only intensity but also in its content. Asanas are more advanced and you will learn with more depth and analysis. Gheranda Samhita is studied as ancient text as compared to Hatha Yoga Pradipika in 200 Hr course.

---
Yoga Teacher Training Course Reviews by Our Students
My experience with The Bodhi Center for yoga and Meditation teacher-training program was excellent in which I could learn comprehensive yoga including mediation, Mantras, philosophy, anatomy, pranayama and asana.

Eiko Watnabe
"The Bodhi Center is a great place to learn Traditional Hatha yoga in a supportive environment. they cover all the aspects of yoga including philosophy anatomy and meditation and shatkarma. Highly recommended!"

Ying Petchrarat
I couldn't have picked a better place for my yoga teacher training, the bodhi centre for yoga and meditation in Rishikesh. Thanks to Arvind and his team.

Joanne Clark
Yoga Teacher Training India Overview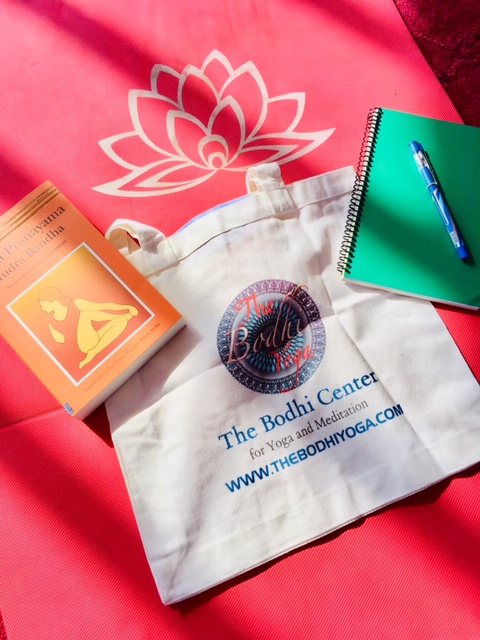 Courses for aspiring yoga teachers are designed for students at all levels—beginners, intermediate, and advanced.
Prospect of visiting local tourist attractions. Experience Indian tradition and culture.
Learn from yoga instructors that are deeply anchored in tradition while maintaining a modern perspective and style of communication.
Learn about the alignment, variations, modifications, contraindications, risks, and benefits of the principal asanas as well as how to enter and exit each pose.
Gain a better understanding of yoga philosophy, ethics, history, and lifestyle practices by investigating the conventional wisdom from ancient yoga traditions.
Learn true yoga—not a specific brand or style of yoga.
Experience yoga as a practise that transforms.
Get in Touch with us
Venue: Yoga Teacher Training India
Skyline Ridge Homestay
Near Shivananda Inter College,
Badrinath Road, Highway 58
Tapovan, Rishikesh, India

---