6 Days Spiritual Meditation and Yoga Retreat in Rishikesh India
Availability: Monday to Saturday Every Week
Overview
Yoga Retreat India
Everyone is welcome to The Bodhi Center for Yoga and Meditation's yoga retreat program. The course will help you to lead a healthier, more peaceful, and more spiritual life. With focus on breathing, awareness, meditation, and practical philosophy, you will learn how to live your life with less stress, feeling the contentment and harmony, and discover your true rhythm and nature!
Highlights
Daily yoga and meditation practice
Classes on Hatha yoga, asana, and pranayama
Mantra, chanting, and shatkarma courses
Visit to nearby temples and Ganga Aarti
6 nights accommodation
Daily vegetarian meals
Skill level
Beginner
Intermediate
Advanced
Group sizes
The maximum participants in the group is 10.
Languages
Instruction language: English
Spoken languages: English
Accommodation
During this teacher training, you will stay either in a private room or a shared double room. Every room has a hot shower. The Bodhi Center provides accommodation in a homely environment, so that you can feel safe and comfortable.
Our Meditation and Yoga Retreat Program in Rishikesh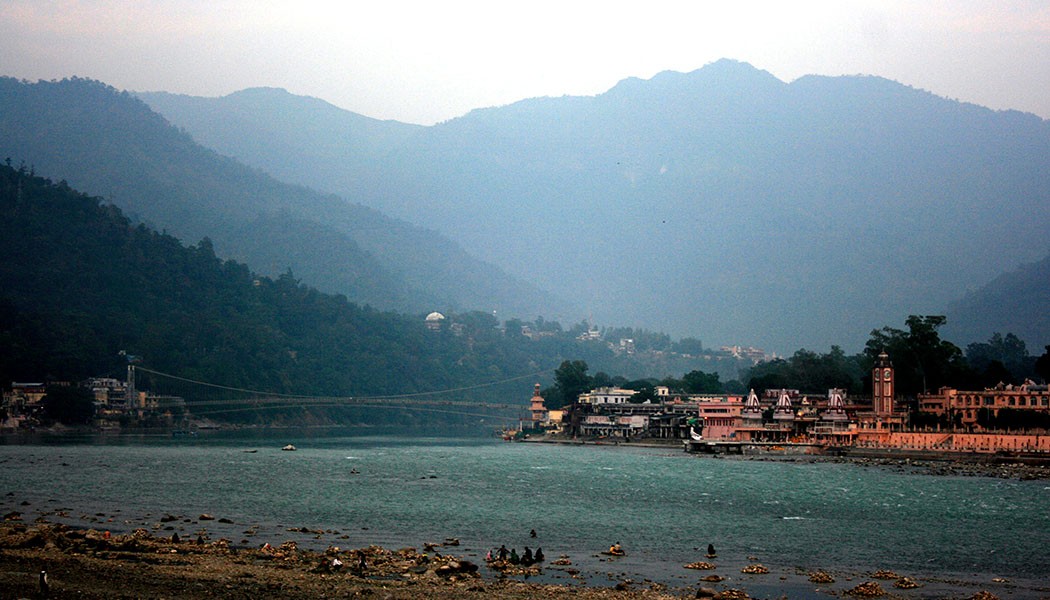 The Bodhi Center has a friendly and inclusive atmosphere that warmly welcomes everyone to discover their true being through the soul nourishing practices of yoga. The Bodhi Center is inclined to create an atmosphere of openness and friendliness where everyone feels welcome to participate. Here Yoga is viewed  as an opportunity to find your true self via the body, breath, and meditation. You can find a fine combination of the wisdom of Patanjali and practice of Hatha. For us, yoga is about creating positive change, happiness, expansion, growth, and fulfillment from within.
Training syllabus includes the study of basic anatomy relevant to yoga, practice, history and philosophy of yoga tradition, meditation, an introduction to the various branches of yoga, yoga therapy for a variety of health conditions, Ayurveda, and more. Whether you are already into yoga or just a beginner; here at The Bodhi Center you will be able to deepen your understanding of yoga and it's practice. You will feel confident enough to embark on your journey as a yoga teacher.
Curriculum
Asana
Ethics in yoga
Discussion on yoga philosophy
Introduction to mantra yoga and chanting
Introduction to yoga philosophy
Mantra and chanting
Meditation and trataka
Yogic wisom from ancient text
Pranayama and mudras
Relaxation and meditation
Shatkarmas (kriyas)
Sample daily schedule
06:30 Chanting and pranayama
07:30 Yoga asana practice
09:00 Breakfast
10:30 Lecture on Yoga and Life (60 Min)
12:30 Lunch
16:30 Light asanas
18:00 Meditation and pranayama
19:15 Dinner
22:45 Lights Out
Included in the total cost of this retreat is a visit to the nearby temples and to Ganga Aarti.
Food
The price of this retreat includes all daily meals, as well as coffee and tea during breaks. . The meals will be homely vegetarian meals suitable for yoga practice. The meals are made with natural foods and sourced from local fresh vegetables. You will enjoy salads, fruits, fresh milk, and herbal teas.
The following meals are included:
The following dietary requirement(s) are served and/or catered for:
(If you have special dietary requirements it's a good idea to communicate it to the organiser when making a reservation)
Spa treatments
There are various massage and spa centers nearby. You can choose one as per your choice.
My amazing Yoga experience in Rishikesh

This was My first visit to India…I was so nervous about traveling on my own and also new to yoga! I loved every single day of my course. It was filled with many life changing moments, an emotional rollercoaster…in the best possible way😃. My main purpose was to find spiritual connections with yoga practice which exceeded my expectations🙌🏻. Arvind, is a beautiful person always so attentive and really went out of his way to make the program as enjoyable for each of us, met some lifelong friends which I am eternally grateful for. Rishikesh will always hold beautiful memories in my heart ❤️🙏🏻🙌🏻

Pauline Johnson